Other Fishing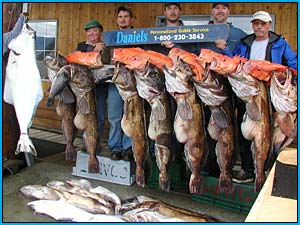 Ling Cod: These are funky fish with big mouths. They have to be 35 inches to be kept and can get as large as 70 lbs. Daniel's largest is 65.8 lbs. They can be kept after July 1 and the limit is 2 per person. Because they are running at the same time as Silver Salmon we can do a Silver Salmon/Ling Cod Combination trip. We charge $240 a person for this trip because to find them you need to go down around the corner into the Gulf of Alaska. It's a 2 1/2 hour trip each way but well worth the ride to see some extraordinary scenery and catch one of these incredible fish. The world record Ling Cod of 77 pounds was caught here and if you've never tasted Ling Cod you're really missing something.
Yellow-eye Rockfish: Daniel's favorite fish to eat these brightly-colored orange fish can get up to 40 pounds and live up to 100 years. They're a deep water rockfish that entails traveling to the Gulf of Alaska to find them. Often when Ling Cod fishing Daniel targets these scrumptious white meat fish as well. The limit is 1 per person per day.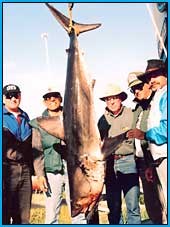 Salmon Shark: What a thrill to have one of these monsters on the line. They get up to 8 feet long and weigh up to 800 lbs. Although hard to get in the boat Daniel and his client have landed a 185 pounder on 20lb test hooked in the tail. What a fight! Hard to target because not concentrated in any one area so we just come across them every once in a while. Good to eat, you can keep 1 per day and 2 per year.
Other: Other sea life encountered in the Kachemak Bay/Cook Inlet Area are Black Sea Bass, Ling Cod, Dolly Varden, Pacific True Cod, Pollock, Kelp Greenling, and Irish Lords. Most of these are wonderful eating fish and fun to catch.

Crab: There are 3 varieties of crab in Kachemak Bay: Tanner, Dungeness and King crab. Unfortunately, all types are closed to fishing at this time.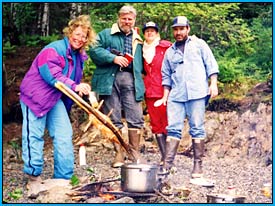 Clams: There are several types of Clams including Razor, Butter, and Steamer Clams available to dig in this area during the minus tides.
*Daniel can take you to the clamming beds across the bay for a day of clamming than on a remote beach to cook them and other delicious treats for a relaxing day on the shores across Kachemak Bay.